My Desktop Setup - Updated
Every once in a while when I'm recording a Pluralsight course, I'll take a photo of my desk to let people see the behind the scenes of the process. Well, my friend Steve Jones (@way0utwest) encouraged me to write a desk setup post…so here we go!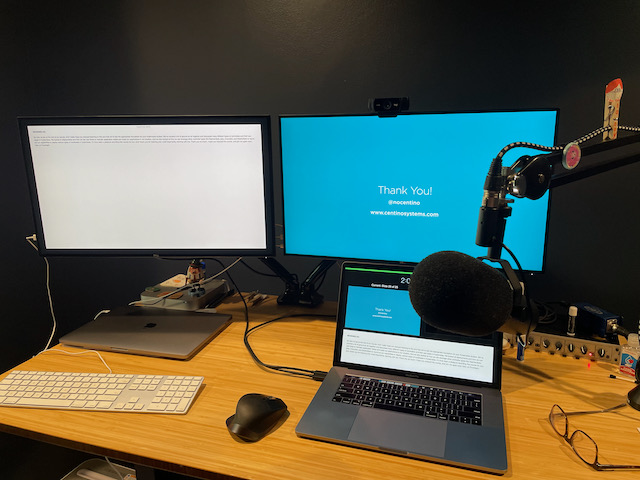 Desk
Autonomous SmartDesk 2 - Home Office
Most standup desks come at a much higher price point, and this one lands somewhere between $379-$500 depending on the features. While it's pretty minimalist, it gets the job done. I have several presets for various heights depending on the current task I'm performing. One tip for those who record audio, I always stand when recording. It helps me with enunciation and also controls the tone of my voice better. A standing desk is a must if you're going to be recording production quality audio. I think there are some health benefits too to standing desks. :)
Compute Power
Main Laptop - 2018 MacBook Pro – 2.9 GHz i9 – 32GB RAM – 1TB SSD
This is my primary computing device. I don't have a workstation; I do almost everything on this computer, so the specs are pretty strong. The only upgrade I didn't get in this laptop was the 2TB hard drive. I offload archive content to a 2012 Mac Mini that has 2TB of disk space. This is the laptop where the battery burst and caught fire. However, Apple replaced that laptop in less than a week. Literally, every component is new except for the top cover, which had all my stickers on there. So thank you to the tech that saved that for me! There's an extra MacBook Pro on my desk that belongs to Pure…not me :)
Backup Laptop - 2018 MacBook Air – 1.6 GHz i5 – 16GB RAM – 512GB SSD
As a consultant and trainer downtime isn't acceptable for my business. So I need the ability to reach into my laptop bag, plugin, and go, and that's the intent of this machine. It has enough horsepower to run all of my critical functions and training workshops if my MacBook Pro dies. It's a touch slower, but it gets the job done. I keep all of my content sync'd between the two laptops with OneDrive.  
File Server - 2012 MacMini – 2.5GHz i7 – 16GB, 2TB SSD
This computer is ancient as the sea but has served me well. It has 2TB of SSD storage, serves as a local backup target, and archives data.
Monitors
Monitors - Dell U2720QM 27 Inch UltraSharp 4K UHD
I have two 28" monitors, which honestly, for me, isn't the best solution. First, when I put the monitors at full 4K resolution, I can't read anything; the font is too small. I didn't take that into account when I made the purchase :) so I usually operate them at 2560 x 1440…which I can read. Further, I generally only use one monitor at a time during day-to-day functions. There's enough real estate at the resolution I previously mentioned to get things done. When recording or presenting, as you can see my setup in the photo above, I'll put the external monitor 1280 x 720 and drive demos on that monitor and use my MacBook Pro's monitor for my presenter's view.
When it comes to connectivity, we're in a transition in the Mac universe where everything is going USB-C. So I have the monitors plugged into my laptop via USB-C for video, data and power. The monitors have a USB hub, and I plug in my USB devices into that, so my recording rig and the desktop charging gear all plug into the monitor's hub…then the monitor's hub plugs into my laptop via a USB 3.0. There isn't a need to buy one of those expensive hubs. As devices get swapped out, I opt for USB-C or Bluetooth.
Desk Arms - Loctek D5D Dual Monitor Arm Desk Monitor Mounts Fits 10″-27″ Monitors, Gas Spring LCD Arm
These work well and give me a ton of desktop real estate back when compared with monitor stands. If you notice, the supported range for the arms is 10" to 27" inches…yea, I messed that up as my monitors are 28", so there's a little overlap on the left monitor there. But it works out OK in practice. 
Recording Gear
OK, for the recording stuff, my main goal is to achieve the highest audio quality while recording without being an audio engineer. When recording, you want to ensure that you're getting the highest quality audio on what you're recording. You can fix many issues in post-production, but it's always best to never let those issues get into your recorded audio. The main reason is, good editing is expensive…in both time and money. So with this rig below, I'm able to archive my goal of good quality audio, but with a simple setup. Background noise is non-existent.
Microphone - Shure SM7B
I switched to this microphone in April of 2018 and have never looked back. My first microphone was a Blue Snowball ICE. This was an excellent microphone for getting started. But as recording became a more significant part of the business…I wanted to step up the audio quality and reduce my editing time, so I switched to the Shure. A pop filter is included with this microphone.
USB Interface – Scarlett Solo USB
The Shure microphone is a professional device requiring inline power and has an XLR interface. The Scarlett Solo is a pre-amp device that boosts the audio signal and connects to my monitor via USB 3.0. This device is simple and effective. I only have to remember to turn it on. 
Mic Activator – Cloud Microphones Cloudlifter CL-1
This device boosts the audio signal from the microphone into the pre-amp enabling you to have a cleaner signal going into your pre-amp without having to crank up the gain a bunch.
Preamp - dbx 286s Microphone Preamp & Channel Strip Processor
If you've heard my recordings, the dbx 286s is what makes the recording quality sooooo good, giving me that famous buttery voice everyone come to know and love. In addition to the Shure mic, this also helps reduce background noise with its 80hz high-pass filter. The device can be intimidating with all the knobs. There are some great YouTube videos out there on how to calibrate the settings and dial it in to your voice.
Putting this all together, the cabling looks like this:
Shure -> XLR -> Cloudlifter -> XLR -> dbx286 -> XRS to TRS -> Scarlett -> USB 3.0 (monitor) -> MacBook Pro
Boom Arm – RODE PSA 1 Swivel Mount Studio Microphone Boom
My main thing about a boom arm is to buy a quality one that doesn't have springs. If your arm has springs when you bump the mic or your desk, the springs will vibrate, and your mic will pick that up. Remember, my goal is to record quality audio the first time…a good boom arm contributes to that audio quality. It mounts solidly to the desk, and when bumped or moved, it is silent. This boom arm is excellent, highly recommended.
XLR Cables – Tainston XLR Microphone Cable Male to Female-3 Feet
The Shure requires XLR cables. Don't skimp on cables. Buy good ones. I might revisit this one and get shielded cables as every once in a while if I have my cell phone too close to the recording rig, I get a little background noise in the recording.
Recording Software – Camtasia
I use Camtasia for all recordings. It works great for simple recording and editing. I try to keep each project file less than 1 hour in recording length as it starts to struggle from a performance standpoint when I go longer than that. I don't do any post-production in Camtasia. I use a professional editor, and he uses Adobe Premier.  
Headphones – Sony Noise Cancelling Headphones WH1000XM3
When recording having wireless headphones is excellent. Not having a wire is beneficial as you are not constantly moving it out of the way or getting caught up in it while recording or listening to recently recorded audio. Much has been said about the quality of these headphones…they're great, and I highly recommend them.
Input Devices
Keyboard – RIP Microsoft Sculpt
Update: This keyboard recently died after nearly ten years of service. I need to pick up another one.
I've been using various Microsoft ergonomic keyboards for years. As for this one, I want to ensure my keyboard has the shortest keystroke possible when pressing on the key, and this keyboard has that. I also use the native MacBook Pro keyboard, which has a similar shallow keystroke.
Mouse – Logitech MX Master 2S Wireless Mouse
When I switched to this MacBook Pro, everything went USB-C. My previous Logitech mouse used a dongle that was USB 3.0. So I got essentially the same mouse but the Bluetooth version. The mouse can be paired with multiple computers at the same time. There's some software that enables you to move between the computers seamlessly…well, let's say that doesn't work so well. There's a little button on the bottom of the mouse that will swap computers. That works great.